Tip for Today: No more dry skin!
Like most of you out there, I'm a serious lover of warm showers, heat blasting at my face in the car and yummy Starbucks Peppermint lattes.... Unfortunately, with all that heat sucking the moisture out of our bodies, we are left with skin that is seriously
PARCHED.
Well... not anymore! I've perfected a little bit of a reprieve from dried out itchy skin by mixing up a fabulous winter-skin-fix concoction!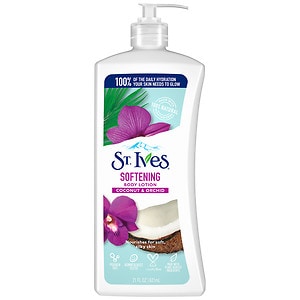 This

St. Ives body lotion

is absolutely amazing, but when it's paired with one of my most favorite things
(ever)
it creates such silky and supple skin it's ridiculous.
The oil is cold pressed from Maracuja seeds (found inside the Maracuja fruit) and is super potent in Vitamin C and those all important essential fatty acids. I use it every other night on my face, but after showering I mix a few drops in with my lotion and voila, amazing moisture that lasts all day long.
If you're in desperate need and can't wait for the order to arrive at your doorstep, do as many generations of Italian women do... Put a small amount (about the size of a dime) of Olive Oil in your daily dose of lotion!
Pure moisture so your skin doesn't dry out, flake off or crack on you all winter long!